Overview of S-RBD Antibody Levels After Covid-19 Vaccination in Premenopausal and Menopausal Women
Juminten Saimin

Faculty of Medicine Halu Oleo University Kendari

Irawaty

Universitas Halu Oleo

Nur Indah Purnamasari

Universitas Halu Oleo

Yenti Purnamasari

Universitas Halu Oleo

Sufiah Asri Mulyawati

Universitas Halu Oleo
Abstract
Objective: To determine the levels of S-RBD antibodies in premenopausal and postmenopausal women who received the COVID-19 vaccine.
Methods: This study involved 21 premenopausal and postmenopausal women who received two doses of CoronaVac at 28 days intervals. The duration of vaccination was 4-24 weeks. This study was conducted on May–October 2021 in Kendari City, Indonesia. Blood samples were taken at a health care facility and examined at the Prodia Clinical Laboratory. Participants were healthy women, willing to participate, and signed informed consent. Participants were excluded if they had a history of COVID-19, had taken antibiotics or immunomodulators in the last 24 hours, had a history of acute/chronic inflammatory disease and malignancy, were traumatized and received monoclonal antibody therapy.
Results: Participants were 52.95±7.61 years old. The duration of the second vaccination was 13.67±5.26 weeks. The lowest level of S-RBD antibody was menopause with vaccination duration <=12 weeks (185.59±112.34 U/mL), and the highest was premenopause with vaccination duration >12 weeks (257.5±3.54 U/mL). The S-RBD antibody level in premenopausal women was higher than in menopausal women at the duration of vaccination <=12 weeks  (223.37±63.45 vs 185.59±112.34 U/mL) and >12 weeks (257.5±3.54 vs. 225.55±91.14 U/mL). There was no significant difference in S-RBD antibody levels between two or more groups (p>0.05).
Conclusion: S-RBD antibody levels in postmenopausal women after receiving two doses of COVID-19 vaccine were lower than in premenopausal women, but the difference was not significant. S-RBD antibody levels in postmenopausal women increased with increasing duration of vaccine administration.
Keywords: menopause, immune response, COVID-19 vaccine, S-RBD antibody
Downloads
Download data is not yet available.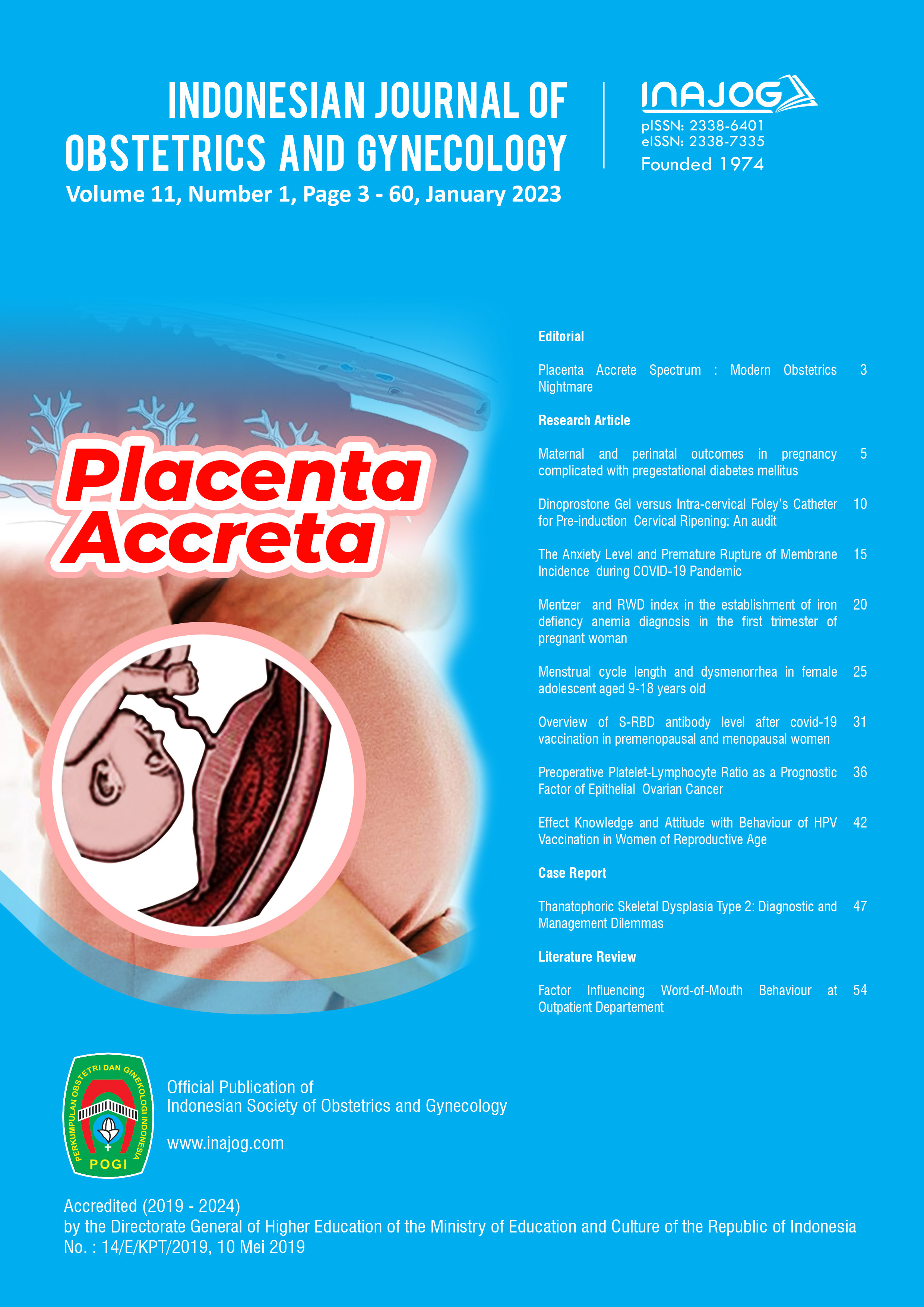 Copyright (c) 2023 Indonesian Journal of Obstetrics and Gynecology
This work is licensed under a Creative Commons Attribution-NonCommercial-ShareAlike 4.0 International License.