Perineal Body Length and Pelvic Organ Prolapse in Menopausal Women
Panjang Perineal Body dan Prolaps Organ Panggul pada Wanita Menopause
Chairun Nisa

Faculty of Medicine Universitas Hasanuddin Dr. Wahidin Sudirohusodo General Hospital Makassar

David Lotisna

Faculty of Medicine Universitas Hasanuddin Dr. Wahidin Sudirohusodo General Hospital Makassar

Deviana S. Riu

Faculty of Medicine Universitas Hasanuddin Dr. Wahidin Sudirohusodo General Hospital Makassar

St. Maisuri T. Chalid

Faculty of Medicine Universitas Hasanuddin Dr. Wahidin Sudirohusodo General Hospital Makassar
Abstract
Abstract
Objective: To determine the correlation between the perineal body length and the pelvic organ prolapse (POP) in menopausal women.
Methods: The total vaginal length (TVL), genital hiatus (GH), and perineal body (PB) length as the POP-Q component were measured at 60 menopausal women enrolled in a cross-sectional study.
Results: Menopausal women with POP have the shorter perineal body (63.3%; <3 cm) compared with menopausal women without POP (36.7%; ≥3 cm). The mean length of the perineal body in menopausal women who suffer POP 2.81 ± 0.26 cm while in women without POP is 3.23±0.17 cm. POP risk was 25 times in menopausal women with a perineal body length <3 cm compared with longer perineal body (p = 0.01; OR = 25.4; 95% CI 3.1-209.1).
Conclusion: Perineal body length is a risk factor for pelvic organ prolapse in menopausal women.
Keywords: perineal body, prolapse, pelvic organ prolapsed
Abstrak
Tujuan: Menentukan korelasi panjang perineal body dengan kejadian prolaps organ panggul (POP) pada perempuan menopause.
Metode: Pengukuran komponen POP-Q meliputi total vaginal length (TVL), genital hiatus (GH), dan panjang perineal body (PB) dilakukan pada 60 perempuan menopause yang dilibatkan dalam penelitian potong lintang.
Hasil:    Perempuan menopause dengan POP memiliki perineal body yang lebih pendek (63,3%; <3 cm) dibandingkan dengan perempuan menopause tanpa POP (36,7%; ≥3 cm). Panjang rata-rata perineal body pada perempuan menopasue yang menderita POP 2,81 ± 0,26 cm sedangkan pada perempuan tanpa POP adalah 3,23 ± 0,17 cm. Risiko POP 25 kali pada perempuan menopause dengan panjang perineal body <3 cm dibandingkan dengan tubuh perineum yang lebih panjang (p = 0,01; OR = 25,4; 95% CI 3,1-209,1).
Kesimpulan: Panjang perineal body merupakan faktor risiko prolaps organ panggul pada perempuan menopause.
Kata kunci : perineal body, prolapsed, prolaps organ panggul
Downloads
Download data is not yet available.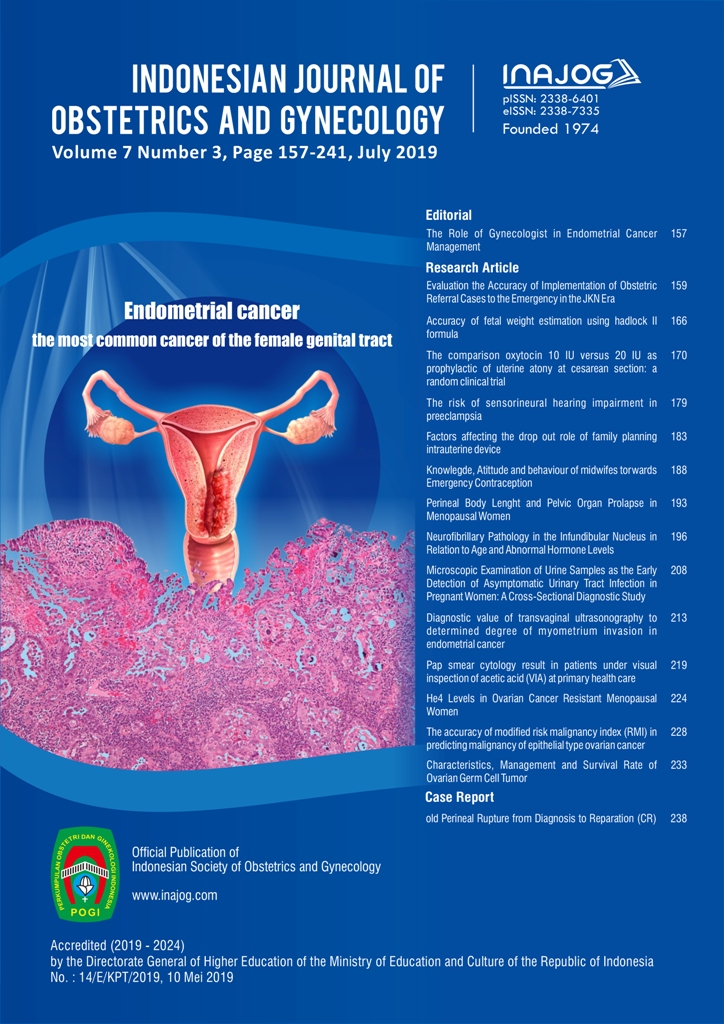 Copyright (c) 2019 Indonesian Journal of Obstetrics and Gynecology
This work is licensed under a Creative Commons Attribution-NonCommercial-ShareAlike 4.0 International License.