Knowlegde, Atittude and Behaviour of Midwifes torwards Emergency Contraception
Tingkat Pengetahuan, Sikap dan Perilaku Bidan terhadap Kontrasepsi Darurat
Eka R. Gunardi

Faculty of Medicine Universitas Indonesia-Cipto Mangunkusumo General Hospital

Leonanta M. Ginting

University of Indonesia
Abstract
Abstract
Objective: To investigatethe level of knowledge, attitude, and behaviour of midwives to emergency contraception in Indonesia.
Methods: This study used a cross-sectional design. Subjects were midwives who worked in the  District CipondohTangerang, Banten, Indonesia until the number of subjects is met at least 100 people. The data were collected by using written questionnaires made by researchers based on previous studies with similar themes. The data obtained will be reported descriptively for categorical variables. The analysis results are presented in the form of sum (n) and percentage (%) (proportion).
Results: Of the 100 respondents who answered the questionnaire, 83% of the midwives had a good knowledge of the condition. Good midwife attitude toward EC in public health care and private practices were 84.62% and 85.06%, respectively. Accordingly, the good behaviour shown by midwives in public health care and private practice is 100% and 94.25%. However, from the question qualitatively the level of knowledge, attitude and behaviour of midwives is still classified as less.
Conclusion: The level of knowledge, attitude and behaviour of midwives towards emergency contraception is said to be lacking. Training on EC on midwives is still needed for practical use in the community.
Keywords: emergency contraception, midwife, unwanted pregnancy, uterine contraception
Abstrak
Tujuan:Mengetahui tingkat pengetahuan, sikap, dan perilaku bidan terhadap kondar di Indonesia.
Metode:Penelitian ini menggunakan desain potong lintang dengan pengambilan sampel berturut-turut.  Peneliti mengambil semua subjek yaitu bidan yang bekerja di wilayah Kecamatan Cipondoh Kabupaten Tangerang sampai jumlah subjek minimal terpenuhi sebanyak 100orang. Pengambilan data dilakukan dengan menggunakan kuesioner tertulis yang dibuat oleh peneliti berdasarkan penelitian-penelitian terdahulu dengan tema serupa. Data yang diperoleh akan dilaporkan secara deskriptif untuk variable kategorik. Hasil analisis disajikan dalam bentuk jumlah (n) dan persentase (%) (proporsi).
Hasil: Dari 100 responden, 83% bidan mempunyai pengetahuan yang baik terhadap kontraspsi darurat. Sikap bidan yang baik terhadap kondar di puskesmas dan di praktik swasta adalah 84,62% dan 85,06%, berturut-turut. Sejalan dengan itu, perilaku yang baik ditunjukkan oleh bidan di puskesmas dan di praktik swasta adalah sebesar 100% dan 94,25%. Namun dari pertanyaan secara kualitatif tingkat pengetahuan , sikap dan prilaku bidan masih tergolong kurang.
Kesimpulan:Tingkat pengetahuan, sikap dan perilaku bidan terhadap kontrasepsi darurat dikatakan masih kurang. Masih dibutuhkan pelatihan tentang kondar pada bidan agar penggunaannya efektif di masyarakat.
Kata kunci: alat kontrasepsi dalam rahim, bidan,  kehamilan tidak diinginkan, kontrasepsi darurat.
Downloads
Download data is not yet available.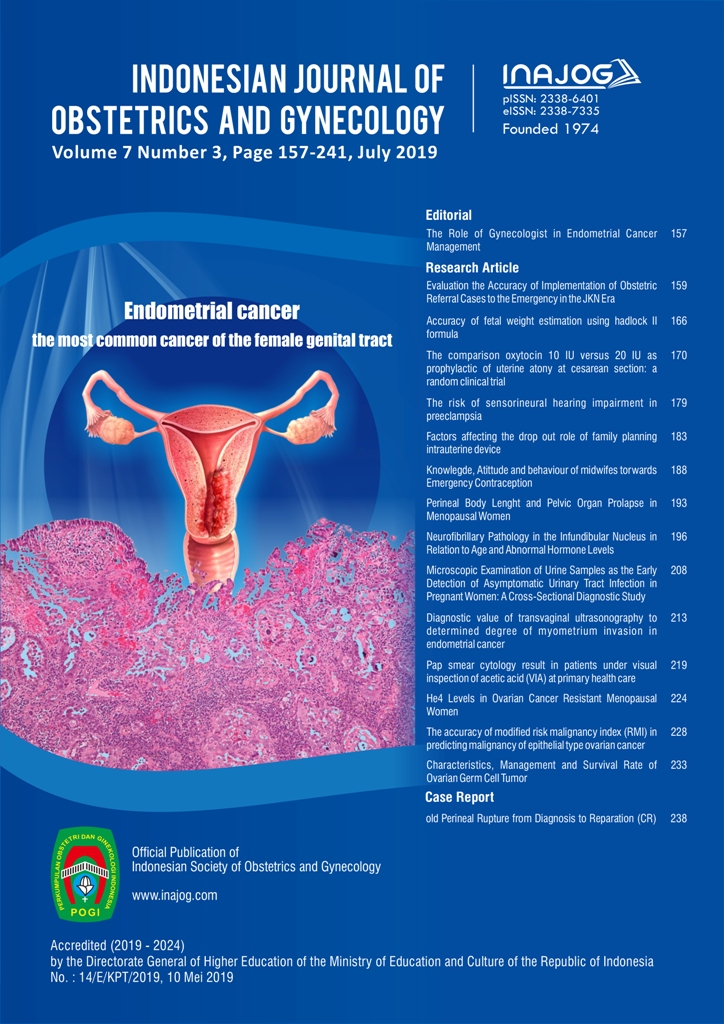 Copyright (c) 2019 Indonesian Journal of Obstetrics and Gynecology
This work is licensed under a Creative Commons Attribution-NonCommercial-ShareAlike 4.0 International License.